Our Commitment to the Well-Being of our Guests and Associates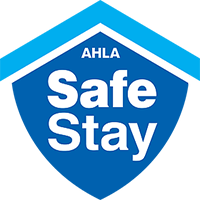 The Prince George Hotel has always adhered to a stringent health and safety program designed to address a broad spectrum of contaminants, including COVID-19. We support the Hotel Association of Canada's guidelines as per AHLA Safe Stay, paying close attention to hygiene and cleanliness in our common areas and guest rooms, and following the latest advice of the Public Health Agency of Canada and our federal, provincial and local authorities in compliance with all applicable laws. We hope that our continued attention to cleaning and hygiene will provide you with confidence in our hotel.
We want you to know that while you are our guest, we will do everything we can to ensure your comfort. If we can assist in any way, please do not hesitate to ask.
Below are some of the things we are doing to ensure your well-being:
We have provided enhanced training in hygiene processes and compliance requirements.
We have increased the frequency of disinfecting and sanitizing high-touch surfaces, including elevators and elevator buttons, door handles, washrooms and the front desk area.
We have heightened our focus on the disinfection of high-touch items in guest rooms and use products which have been proven to be highly effective in virus mitigation.
Enhanced Practices
We are following the cleanliness guidelines as set out by the PHAC and CDC, as well as using their approved sanitizing products.
Added hand sanitizing stations in high traffic areas.
Provided training, protective equipment guidance and FAQs to associates.
Welcome/Front Desk
Ongoing sanitization of key cards and pens.
Added a hand sanitizer station for guests.
Public Spaces
Hand sanitizing stations available throughout all public spaces.
Guest Rooms
Increased the frequency of disinfecting and sanitizing all hard surfaces and fixtures.
We have removed non-essential items (in-room collateral and other high-touch items); available upon request.
Food & Beverage
Updated food handling and service guidelines.
Introduced additional cleaning and sanitizing protocols.
Introduced new approaches to buffets, catering and banquets.
Disposable or laminated menus for sanitizing/disinfecting.
Improved contactless payment options.
Meetings & Events
Strict food handling and service guidelines in effect.
Sanitizer available throughout event space.
Pens and pads will be provided upon request.